First-Time Homebuyers Mortgage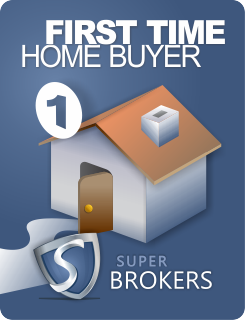 Buying a home is a major milestone in life and first-time homebuyers can feel overwhelmed by the choices. For the vast majority of us, it is the single most expensive purchase that we will make. Not only that, it contains a bevy of uncertainty, excitement, and stress rolled into one not-so-neat package. But being a first-time homebuyer offers its benefits but also comes with a lack of experience and uncertainty.
The process of being a first-time homebuyer also means that you will need to start saving up for a down payment and the costs associated with purchasing a home. Perhaps you think that you will be unable to afford a home. What you may not have known is that there are a variety of incentives for first-time home buyers offered by the Canadian government like the first-time homebuyer tax credit.
Apply Now for a Mortgage
First-Time Homebuyers Tax Credits
Because you are buying your first home that means that you may have access to a number of tax breaks. This includes the First-Time Homebuyers' Tax Credit. This is claimed on your annual tax return and, in most provinces, those buyers can also claim things like a land transfer tax rebate.
First-time buyers can also take advantage of things like tax-sheltered savings using what is known as the Home Buyer's Plan. This allows you to withdraw money tax-free from your RRSP so that you can purchase a home.
Because there are also government programs available, this means that the stress of the expense of purchasing that first home can be eased. Most importantly, there are a bevy of perks to be had. In addition to the aforementioned tax credits and Home Buyer's Plan, this can also include things like the GST/HST new housing rebate.
Mortgage insurance is also offered by the Canada Mortgage and Housing Corporation (CMHC) as well as other private insurers. This allows all home buyers, including first-timers, to buy a home with a down payment as low as 5%. There are also cash grants available, and though rarer, that can help buyers save thousands upon thousands of dollars but it is best to ask your broker first.
First-Time Home Buyer Incentive
The First-Time Home Buyer Incentive is meant to help qualified first-time buyers reduce their monthly mortgage payment without having to add to their financial burden. This is a shared-equity mortgage with the government of Canada and it offers:
A Minimum 5% for a first-time buyer's purchase of a resale home
5% for a first-time buyer's purchase of a new or resale manufactured/mobile home
A down payment of 5% to 10% for a first time buyer's purchase of a brand-new construction
This Incentive's shared-equity mortgage is one where the government has a shared investment in the home itself. This means that the government shares in both the upside and downside of that property's value.
Participating in this loan means not having to save quite as much for a down payment as would be necessary on your own. The home buyer will, however, have to repay the Incentive based on the property's fair market value at the time of repayment.
For example, if a homebuyer receives a 5% Incentive, they would have to repay 5% of the home's value when it comes time to repayment. This is meant to give new buyers a chance to purchase a home without as much down initially.
Mortgage Rates for First-Time Homebuyers
A great thing about being a first-time buyer is that if you have good credit and provide a sufficient down payment, you should be able to qualify for some of the best mortgage rates on the market today despite never having purchased a home before.
An important thing to remember is that you do not have to obtain a mortgage through the financial institution that you currently bank with. As a matter of fact, it is advisable that you do some shopping around to find the best possible rates.
Consider using a broker – as many first-time homebuyers do – to help facilitate the entire process, making it smoother going and providing a more helpful and educational experience as well.
Get the Professional Help You Need
Superbrokers can assist in finding the best brokers that have access to some of the lowest rates in Canada. Not only that, they can find access to some pretty great lender products that have great repayment options and flexible terms to meet your need best.
Buying your first home is supposed to be exciting. If you have never had a mortgage before and need help looking for your first home or are simply looking to get more information, one of our mortgage brokers is available to answer all of your questions.
All of our consultations are free – you never have to pay us to get more information (like the basics) about the first-time homebuyer experience. That means going into this very exciting process with the most information and getting the best experience possible.
First-Time Mortgage Frequently Asked Questions
To avoid adding unwanted stress and confusion in obtaining your very first mortgage, read the following frequently asked questions. This valuable information will not only answer some questions you may have about mortgage brokers but, most importantly, may also make your first home purchase a money-saving experience.
What is required to obtain a first Mortgage?
What can I use for a down payment?
In most cases:
Registered Retirement Savings Plan: The Home Buyers' Plan allows you to use your RRSPs as a down payment up to a maximum amount of $25,000 and is not subject to income tax if repaid within a specific time period.
Gift from immediate family
Accumulated savings
Sale of existing home
What costs are involved in obtaining a mortgage?
Costs incurred are:
Legal costs (Usually between $600 - $1000)
Insurance on the property and mortgage applicant
In some cases an appraisal is requested
How long does it take to complete a mortgage transaction?
If all information requested by the lender (i.e. Income verification, down payment verification and property details) is given to the broker in a timely matter the transaction can be completed in as little as 4 days.
Can I get pre-approved before I find the home I want to purchase?
Yes. Our lenders offer pre-approvals from 60 to 120 days. This will allow you to hold a great interest rate while you shop for a home.
How much can I qualify for?
Qualifying guidelines vary depending on the lenders criteria and products available. To find out exactly what you can qualify for, please submit your application for a pre-approval. To get an estimate, try our mortgage calculator.
What is CMHC?
Canada Mortgage and Housing Corporation is a federally owned and operated institution that evaluates the client and property to allow the borrower to purchase a home with a lower down payment requirement. This corporation insures the mortgage on behalf of the bank, through a premium added to your mortgage. This allows banks and lenders to provide mortgages to their clients even if they have less than a 20% down payment.
Who does Super Brokers work for?
We only work for you. We are not affiliated with any one single bank or lender; thus allowing us to shop around for the best mortgage rates in Canada.
What is the purpose of a mortgage broker?
We specialize in mortgages and only deal with lenders who can compete against the local branches for better rates, terms and service. Our only job is to find our clients the absolute best mortgage product to fit their needs.
How can a mortgage broker get a better rate than my own bank?
The mortgage lenders that we use do not have local branches in each city or town, they have no large overhead and are in the business of lending money for mortgages only. This, combined with their large volumes, allows them to discount the rates far better than your own bank can provide.
Are there any extra costs or hidden fees when I use a mortgage broker?
There are absolutely no hidden fees. Any costs related to a Super Brokers mortgage are fully disclosed. Any costs incurred would be the same as if you went through a bank and in most cases LESS with Super Brokers. We are here to earn your business today and in the future!
What if I have had poor credit or have been discharged from bankruptcy?
Yes you can! We have lenders that will lend to past bankrupt clients and those with bruised credit. These lenders will lend in major urban centers and require a minimum of 20% down.