Mortgages for the Self-Employed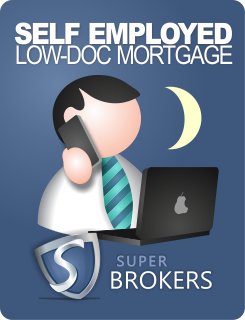 Sloppy mortgage lending practices beginning in the 1990s and peaking just before the housing market collapse in the middle of the 2000s cause problems for mortgages for the self-employed. Since then, there have been new mortgage guidelines put into place to prevent such a collapse from happening again.
When those mortgage guidelines were implemented, it made it more difficult for unqualified buyers to get a mortgage. It also became more difficult to get mortgages for the self-employed. Right or wrong, these new regulations created significant challenges in acquiring mortgages for the self-employed.
Still, there are ways that those who are self-employed can prove their income, putting them in a better position to obtain a fair mortgage.
Apply for a Mortgage
How to Provide Proof of Income
There are a handful of ways that those who are self-employed can properly declare their income. This makes getting mortgages for the self-employed a little easier while providing the certainty that lenders are looking for.
Traditional Income Confirmation. This is when you make money, that income is sufficient to support your debts and mortgage payment, and you consistently report that income on your tax returns. Being able to prove this is the same as having standard full-time employment and can help get mortgages for the self-employed for as low as 5% down.
Non-Traditional Income Confirmation. This is when you not only make money but you can prove that you make enough to support your debts and mortgage. This is achieved through banking statements, business tax returns, financial statements, etc.
The thing with this is that the income will not show up on your personal tax returns. For those that fall into this category, the minimum down payment can be as low as 10%, though the interest rate is a little bit higher and an insurance risk premium is added to the mortgage balance. Additionally, the types of property that you can own are also restricted.
Stated Income. This means that you are unable to confirm your income as well. You also are tagged as "non-conforming" by federally-regulated banks. Should you fall into this category, a down payment will be at least 20% and can be as high as 35%.
Furthermore, interest rates are also higher and there are further restrictions on not only the type of property that you can finance, but the location as well. There are private lending sources out there that may help, but traditional banks are having a harder time funding those with stated income.
Growing Numbers of Self-Employed
Statistics show that nearly 20% of all income earners in Canada are now self-employed. This is a large and growing demographic, which brings up the question, "Why is it so difficult to get a mortgage through a chartered bank if you're self-employed?" That's because many business-for-self owners fully utilize their allowance for expenses in lieu of extra income, something most banks will not recognize.
At Super Brokers we understand your needs and with our preferred lenders, we will find a product that is right for you.
Here are just some of the great products available:
The Low Documentation (Low Doc) Mortgages for the Self-Employed
Purchase a new property or refinance your existing home up to 80% of its appraised value.
You will need:
A clean credit history. (No bankruptcies or foreclosures. Any late payments on credit cards or loans may lower your chances of qualifying.)
Proof that you have been self-employed for two (2) years. (Incorporation papers or GST number.)
The property to be located in or near a major centre. (Please call for details.)
Some restrictions apply. Please fill out our easy-to-use low-doc mortgage application or contact one of our representatives today to qualify!
Apply Now for a Low Doc Mortgage
Please remember each application is unique and these are just some examples of the current products available to business-for-self persons. Here are a few things to remember when shopping for a mortgage:
A self-employed person with a clean credit history in most cases will receive the lowest rates available.
An established credit history does improve your chances obtaining a mortgage.
Please keep in mind that the property must be in or near a major centre.
Super Brokers works hard to bring products like these into the Canadian mortgage market. Contact your Super Brokers mortgage broker for further developments.