Home Buying Process
Simple steps for home buying in Canada
Buying a new home is a complex process, but it does not have to be difficult. Knowing where to start and which steps to follow will make your home buying process a good experience. The following steps are sure to get you on the right track and into your new home: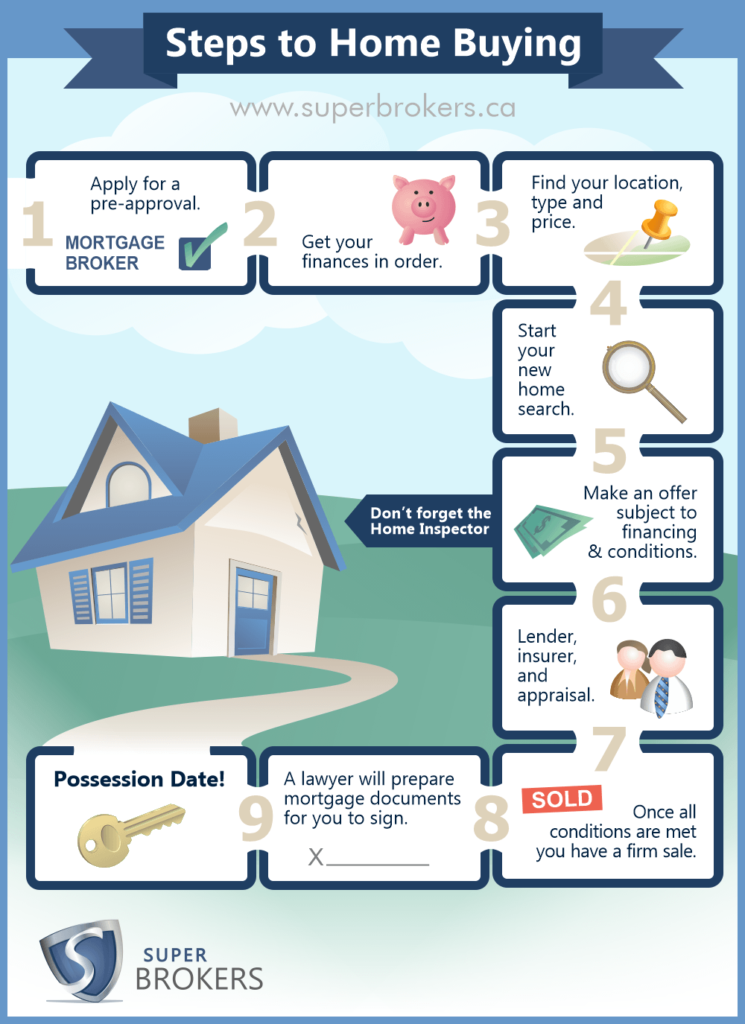 1. Apply for a pre-approved mortgage
Now that you've determined what you can afford and your finances are in order, the next step is to arrange financing. Use our online application and apply for a pre-approved mortgage. A professional mortgage broker will help you every step of the way. We will evaluate your current situation and do a credit check. Sometimes there are credit issues that you may not have been aware of. Addressing these problems now will save time later.
2. Get your finances in order
Your financial situation determines whether or not a lender will grant you a mortgage. Make sure you have the finances to cover a 5% down payment on your anticipated purchase. Your down payment is based on the amount you intend to borrow and must come from anyone or a combination of the following:
Accumulated personal savings (i.e. Chequing and savings accounts, TFSA, etc.)
RRSP (up to $25,000, or $50,000 if applying with a spouse can be drawn from an RRSP using the Home Buyers' Plan)
Gifts from an immediate relative
In certain situations, your down payment may be borrowed in the form of a loan or line of credit. Lender availability and qualifying criteria must be met.
If you have less than 20% of the home purchase price saved for a down payment, you will need mortgage insurance. Mortgages with a Loan-to-Value Ratio larger than 80% (in other words, a down payment less than 20%) are known as high ratio mortgage loans, and the Canadian government requires mortgage insurance on all high ratio loans. There are three mortgage insurers in Canada: CMHC, Genworth and Canada Guaranty.
Verified personal assets are not always necessary but having them ensures confidence in the lender that you will not default on your mortgage.
Use the Super Brokers mortgage calculator to help you determine what your down payment and mortgage insurance fee will be based on the home purchase price.
3. Determine the location, type and price of the home that suits your needs
Most people will have an idea of where they want to purchase their new home-based largely on familiarity and convenience. For example, living close to work or schools might be a priority or selecting a certain area of town rife with parks and amenities. This is also a good time to think about how much you want to spend and what you can afford, try our mortgage affordability calculator.
4. Start your home buying search
You've been pre-approved, how you find the perfect property is entirely up to you. Many home buyers enlist the services of a realtor, while others do it on their own.
It is important to only look at homes within your budget as not to be disappointed later. However, you may be able to persuade a seller to lower their price if it is reasonable to do so.
5. Make an offer
When you are satisfied that the property you have chosen meets your needs, you can make an offer subject to financing. Your offer may also have other subjects, such as subject to satisfactory home inspection. It is very helpful to have a realtor prepare your offer. Sellers have the right to accept, reject or put in a counter-offer. Remember to include all the necessary details in your purchase offer. A deposit to the seller is required at this point; it is usually between $1,000 and $5,000, depending on the purchase price.
6. Lender, insurer and appraisal in home buying
Once your offer has been accepted, your mortgage broker will work with the lender, insurer and appraiser to finalize the approval of your mortgage. Further documentation may be required at this time. It is important for you to collect and submit all paperwork in a timely fashion.
7. Firm sale
When all of your financing conditions have been met you can remove the subject to financing from your purchase contract. Other conditions such as subject to satisfactory home inspection should be met and removed at the same time. If you have hired a realtor, they can assist you with this. Once all conditions are satisfied you have a firm sale. The lender will send instructions to your lawyer or a lawyer recommended by your broker.
8. Mortgage documents
The lawyer will prepare mortgage documents for you to sign. The signing is done a few days prior to the completion date at the lawyer or notary's office. The completion, or closing date, is when the legal completion of paying the seller and transferring the property title to your name occurs. The lawyer receives the mortgage money from the lender and pays the seller, registers the home in your name and gives you the deed. You must pay the closing costs and the down payment (minus the deposit).
9. Possession date
The day following your completion date is usually the possession date. This is the day you receive the keys and you can move into your new home!