Pre-Approved Mortgages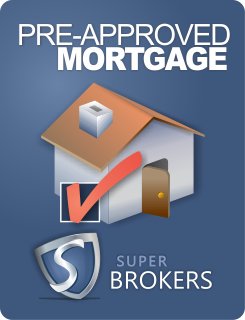 Pre-approved mortgages are quite common. If you have even considered buying a home, there is little doubt that you are at least a little familiar with pre-approved mortgages. This allows borrowers to look for a home with the understanding of what amount they will be able to receive from a lender.
It is a good idea for potential homeowners to seek out those mortgage approvals before they find a property to buy. This is because knowing how much is able to be borrowed can make the process a little smoother.
Get Pre-Approved Today
What is a Pre-Approved Mortgage?
A pre-approved mortgage is a home loan in principal but it has been tentatively agreed upon by a lender. This agreement outlines how much money a homebuyer will receive for a certain interest rate and specific terms.
It is important to note that a pre-approval is not the same as a finalized agreement. Still, it is usually an accurate depiction of what the final product will be and can be a useful tool for homebuyers during the process of finding a home.
The Benefits of Pre-Approved Mortgages
There are a few benefits to be had by obtaining a pre-approved mortgage. The most obvious is knowing how much money you have to spend on a property. That takes some of the guesswork out of finding a new home as you know precisely what your limit is. This means looking at the most relevant homes instead of wasting time on properties that fall outside of your price range.
A pre-approval also allows you to calculate your monthly mortgage payment. This gives you a chance to plan out your repayment period and fully understand if it works within your budget. Far too many buyers get into situations they can't afford and don't realize it until it's too late.
Pre-approved mortgages also give borrowers more credibility with sellers. This shows that you are not only serious about buying, but have the money to do so. This provides peace of mind to the sellers, leading to stronger negotiating power for the buyer.
Lastly, it is a great way to lock in a specific interest rate. Since most pre-approvals are only valid for 90-120 days, they can count on the rate they have locked in for the entirety of the loan.
What Types of Pre-Approved Mortgages are There?
The pre-approval can come in many shapes and sizes. Among those are:
Variable rate mortgages
Fixed-rate mortgages
Residential mortgages
Conventional mortgages
Short-term mortgages
Long-term mortgages
And there are many others as well. It would take years of studying and experience to not only be familiar with all of the types out there but what they can do for you. Contact your lender to speak about which type of mortgage is best for your needs before you decide on one.
How do I get a Pre-Approved Mortgage?
Gathering the essential information for the lender to analyze is important when seeing pre-approval. This means providing the name of your employer, your current salary and length of employment, as well as any other annual salaries in your household.
Income besides those salaries is also important. This means that borrowers should provide information regarding any bonuses, commissions, assets, or investments that can add to your total net worth and play an impact on the mortgage that you could obtain.
Lenders also need to know about any financial responsibilities and liabilities. This includes things like alimony, child support, bills, credit card debt, student loans, car loans, or any other obligations.
Contact Super Brokers to speak with a mortgage professional that can walk you through the pre-approval process and help find a home loan that fits your needs. Keep in mind that minimum down payment is 5 percent with a maximum amortization period of 25 years. Also, all applicants must be purchasing property located in Canada.
Apply for a Pre-Approved Mortgage