New Construction Mortgages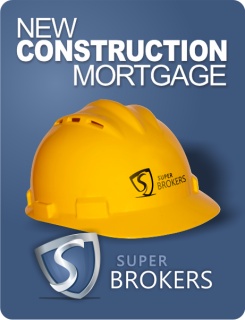 There are many different scenarios and situations where obtaining a mortgage is possible. This is especially true for new construction mortgages. But what happens if there are no houses out there that meet your criteria? What if a new build is the only way to go?
We have all thought about potentially building a home from scratch. Being able to get each and every little detail met is a dream for any homebuyer. But what goes into the process aside from working with the contractor to pick the perfect features.
Part of what makes homebuyers go through the new construction route is convenience of a sort. Instead of dealing with months of looking through homes that don't quite fit, it is possible to simply create the house that you want. And all the little details are met.
So, if you're a homebuyer and you're interested in participating in a new construction, understanding what is needed for new construction mortgages is key. It is important to note that it takes a bit more money up front and can be a bit more difficult to obtain that style of mortgage than a traditional loan.
Apply Now for a New Construction Mortgage
New Construction Mortgages and Purchasing Vacant Land
If the plan is to build a completely new home from scratch, the first step is to purchase a vacant lot to build on. There are some with the money to purchase a lot that has a home on it. From there, they tear down the building and create their new home over it.
When buying an empty lot, there may be a need to secure a separate loan aside from new construction mortgages in order to buy the lot. This means having a favorable credit score and meeting certain income requirements.
It also means putting down a deposit on the land itself, typically in the 25-35% range. There is, of course, the option of going through a private lender or by opening a Home Equity Line of Credit through another property that you own.
It is also important to do your homework on the lot that you are purchasing. Know whether or not you will be able to get permission from your local municipality to build as well as the proper zoning permits as well.
Lastly, consider environmental impacts. Thinks like sewage disposal system, drinking water system, and other necessary utilities. The land alone requires more than meets the eye.
Buying Through a New Home Builder
There is also the option of purchasing a home that is already under construction. This is for those who want to buy a new house, but don't want to deal with putting the plans in motion and taking on the construction themselves.
Buying from a new home builder is most common when developments are under construction. Those developments have several homes available that have yet to be built. This allows those interested in new construction mortgages to get a new, mostly custom build that they want.
While there is still some say in the way things will be built, there is also a lot less red tape to deal with. You can still pick the lot you want, but you won't have to worry about those environmental impacts. That's a lot less headache when choosing the layout and finishes, among other things.
It is essential that, when choosing a new home builder, you make certain that they are reputable. Any legitimate builder should provide a warranty of at least a year for both their work and the materials used during the construction. That backs their quality and gives you peace of mind.
The Progress Draw
One option for new construction projects is the progress draw. This is where the homebuyer is granted funds from their lender in installments through various stages of the build. During each of these phases, the lender will send a home inspector to review progress. Here are the 4 phases for this type of mortgage:
Phase 1: "The foundation draw" is when the land has been purchased and the initial construction has begun. It is important to note that the land has little to no mortgage on it or it can lead to complications in the dispersing of the funds.
Phase 2: "The Lock-Up Draw" is received around the 30-50% completion mark. This is usually the foundation, doors, and windows are in place so that it can be "locked up".
Phase 3: "The Drywall Draw" is received around the 65-70% mark, when the heating system is put in and the drywall is ready to be painted.
Phase 4: "The Completion Draw" is received when the house is finished or very close to being completed. Everything must be signed off on and the home is considered livable.
There are fees for each phase and it is important to consider that expense before choosing this type of mortgage as an option.
The Completion Mortgage
This is the type of loan that means you have bought a home through a new builder and the construction is finished or at least move-in ready. Since the mortgage will only be finalized 30 days before you take official possession of the home, it may require a down payment. Unlike a traditional down payment, however, it can be paid in installments.
This is often an appealing option because the terms won't be official until 30 days before the buyer takes possession of the home. This means that buyers are able to make certain changes. But in this time period, the homebuyer can't make any substantial changes like getting another large loan or switching jobs. Deviating from these guidelines can result in the mortgage being revoked.
How to obtain new construction mortgages?
Contact Super Brokers to speak with a mortgage professional about your plans for either constructing a new home or purchasing a newly constructed home. Based on your finances, as well as your timeframe for the project, these professionals can help you find the right loan to fit your needs. Keep in mind that the minimum down payment is 5 percent with a maximum amortization period of 25 years. The property must also be located on Canadian soil.
Apply Now for a New Construction Mortgage