Debt Consolidation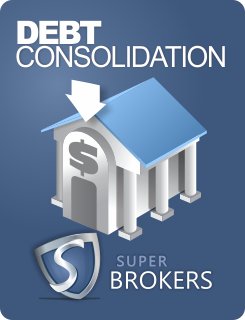 The unfortunate reality is that Canadians everywhere face debt. Whether this is from auto payments, credit cards, or other sources, they exist for the vast majority of Canadians. This is why debt consolidation makes so much sense.
Debt consolidation is the method of taking out a low interest loan in order to pay off those debts. So instead of multiple outstanding debts, there is one consolidated debt that needs to be paid off over the term of the loan.
Apply Now to Refinance or Consolidate Your Debt
Why Debt Consolidation Makes Sense
More than 15 percent of the applications that Super Brokers receives online have to do with debt consolidation. That means thousands of requests received with the same message – borrowers want to simplify and pay off their debt.
And because this is a type of mortgage refinance, consolidating debt is quite common. It has more to do with making sense than it does with being in debt. And pulling the equity out of your home when rates are great can save a huge amount on interest charges.
That equity in your home can be used to consolidate those high-interest credit cards, open credit lines, and even car loans. In the past, a second mortgage was the only way to consolidate that high debt and the interest rates on a second mortgage can be as high as 24%. Thankfully, you can refinance your existing mortgage today to incorporate those debts and remove the debt load. This can all be done without that second mortgage.
An Example of Debt Consolidation
If you find yourself in a situation where making monthly credit card payments is difficult, consolidation can certainly be an option.
Here is a table with a common example of an individual with debt. The interest rates are high and the total monthly payments needed to pay off that line of credit are quite high. Paying the minimum usually covers little of the principle, going to mostly interest instead. This means paying far more over the life of the loan or credit balance.
Before Debt Consolidation:
| | Old Debt | Interest Rate | Monthly Payments | Interest in 4 Years |
| --- | --- | --- | --- | --- |
| Credit Card | $30,000 | 19.0% | $900 | $13,000 |
| Line of Credit | $10,000 | 9.0% | $250 | $1,950 |
| Car Loan | $45,000 | 7.5% | $1,100 | $7,300 |
| Mortgage Loan | $300,000 | 6.5% | $2,000 | $74,300 |
| Total | $385,000 | | $4,250 | $96,550 |
All calculations in the above example are based on four years (4-year mortgage term, 4 year financing for car loan and a 4 year plan to payout of all credit debt). Credit debt payments are calculated at a fixed amount based the first payment using 3% of credit card balance and 2.5% of credit line balance. Monthly mortgage payment calculation is based on a standard 25-year amortization. For additional calculations, try our Mortgage Calculator and Credit Card Payment Calculator Tool.
Consolidating Debt Reduces Payments and Interest Charges
The biggest advantage to debt consolidation is in the reduction of interest paid. This makes the debt far more manageable and saves you quite a bit of money over the life of the line of credit. This is done by securing a better interest rate on your mortgage. That option that should always be considered if prime interest rates have dropped since the previous mortgage was signed.
There are fees that are associated with a debt consolidation mortgage. Thankfully, these can be recovered quickly from paying far less in interest. In the example below, the interest paid in four years is substantially less than it would have been without debt consolidation.
In this example, the math is clear: over $20,000 in interest savings. Additionally, the monthly payment is lower than it would have been without that consolidation. Depending on the lender, the appraisal fees and even some legal fees can be covered. When this happens, this brings your total savings to an even higher level.
After Debt Consolidation:
| | Debt / Expenses | Interest Rate | Monthly Payment | Interest in 4 Years |
| --- | --- | --- | --- | --- |
| Total Debt | $385,000 | – | $0 | $0 |
| Penalties* | $9,000 | – | $0 | $0 |
| Appraisal | $300 | – | $0 | $0 |
| Legal Costs | $700 | – | $0 | $0 |
| New Mortgage Loan | $395,000 | 5.0% | $2,300 | $74,900 |
* Penalties can be avoided by consolidating debt at the time of your mortgage renewal.
Apply Your Savings to Your Mortgage
The best thing about the savings is that it can be applied to your mortgage if you so wish. By converting those high-interest debts into a lower monthly payment, you can have more money to put towards paying the principle of your mortgage.
Depending on how much you additional money you put towards that monthly payment, you can reduce the time it takes to pay off that principle. In the end, it all means savings for you and money back in your pocket.
After Debt Consolidation:
| New Mortgage Loan | Interest Rate | Monthly Payment | Mortgage Paid In | Interest Savings |
| --- | --- | --- | --- | --- |
| $395,000 | 5.0% | $3,250 | 14 years, 2 months | $167,450 |
Applying for Refinancing
In order to determine whether debt consolidation is the right path, you need to know what your monthly debt payments total. Add up your mortgage, credit cards, and any other outstanding debts. Take that amount and divide it by your gross monthly income. If the number is about 0.50, calling Super Brokers should be an absolute must. Even below 0.50, we will still find a way to save you money.
In order to take advantage of this refinancing program, there are two prerequisites. The first is that you must be a homeowner. The second is that you must have at least 20 percent equity in your home at the time of refinancing.
Fill out our online refinance application and let us do the leg work for you. If you have any concerns or questions, please include them in our application comments section. The secret is to determine at an early stage whether debt consolidation is the best route for you.
Apply Now to Refinance or Consolidate Your Debt