Mortgage Renewals
Don't get caught by the banks!
When a term is coming to a close, most Canadian banks will send a mortgage renewal notice in the mail usually one to two months prior to the term expiration. At this time the banks tend to take advantage of our busy schedules to assume that you will sign on with them for another term. The worst part is that the banks only tend to offer you their posted rate with very little or no discount. Almost 60 percent of the public sign this renewal without researching what the competition has to offer. We, at CanEquity, are here to offer you the expertise and resources so you can take advantage of the competitive mortgage market.
Get the Best possible mortgage rate
CanEquity deals with over 75 lending institutions to find you the best possible mortgage to fit your needs. We don't work with one bank or one institution; we are an independent company with a sole purpose of finding you the best mortgage rate in Canada.
Traditional "big bank" policy is at best to discount the posted rate by 0.10 to 0.75 percent. Of course in order to get a fully discounted rate the bank likes to see your personal investment portfolio. Why should your net worth have anything to do with the discount you receive? At CanEquity Mortgage, your discount is based on normal qualifying procedures such as credit worthiness and job stability, not how much money you have.
Discounting with CanEquity starts at 1.00 to 1.75 percent!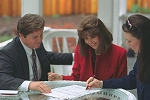 The certified mortgage brokers at CanEquity will secure the best mortgage rate possible. Our brokers provide sound advice and make certain your next mortgage is right for you!
The big difference when using CanEquity is service! We don't stop at the application. We assist you in gathering all information that the lender requires. Our national team of brokers can also assist you with picking the right legal representation, residential appraiser, home inspector and insurance broker. We have the solutions to all of your mortgage related concerns. Unlike the big banks, we work harder to earn your business and to keep you coming back!
If you have any questions concerning your upcoming mortgage renewal please use our contact form to forward any questions to one of our licensed representatives.
Fill out our Best Rate Renewal Application and let us earn your business.
* Mortgage interest rates are subject to change without notice at any time. Some rates may be subject to minimum credit score, loan amount and may only be available certain lending areas. A quick closing loan condition may be required. Does not apply to preapprovals. Contact CanEquity for details. Although every attempt is made to ensure the accuracy of our website, the above mortgage information should only be used as a guideline and CanEquity makes no guarantees on any rates shown. CanEquity Mortgage always recommends that you consult a mortgage broker before making a decision. CanEquity does not guarantee to have the lowest rate in Canada. We do make every attempt though to find the best mortgage deal possible for all of our clients.

§ Our mortgages are only available to Canadian residents or foreigners purchasing property located in Canada.