Blended Rate Mortgages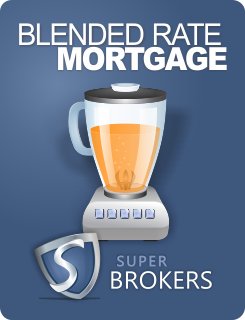 Though signing a mortgage may seem like you are locking in your deal, that is not the case. This is where blended rate mortgages come into play. The interest rate market can change, causing fluctuations that are generally not a big deal, but can make for a huge difference.
While the market is certainly capable of fluctuating, there are life situations that can change. Perhaps an emergency provides a sizable hit to your savings. Or perhaps the unthinkable happens and you lose your job.
When time comes to refinance your mortgage, there are plenty of things that could change. Trying to refinance your mortgage can depend on quite a few things and partaking in blended rate mortgages can be highly beneficial.
Apply Now for a Blended Rate Mortgage
What is a Blended Rate Mortgage?
Blended rate mortgages are the kind of mortgages that combine your old mortgage and a new loan amount. This kind of mortgage is seen as something of an alternative to refinancing. This is because the new loan amount is ultimately added to your current mortgage.
So, instead of taking out an entirely new loan, you can turn two loans into one. The reason for this is to save on the additional interest costs that traditionally go with refinancing. It is important to keep in mind that with blended rate mortgages, you can't transfer it to another property if you move. This kind of loan can only be used on your current home.
What benefits are involved with Blended Rate Mortgages?
Like any kind of mortgage, a blended rate mortgage definitely has its own positives. That doesn't even include the extra money that is saved on interest costs that are generally associated with refinancing. The benefits involved in home rate mortgages include:
Home Renovations: If you are planning on doing work to your property but don't know where the funds will come from, look no further. Being able to add on to your current mortgage also gives you access to equity. This equity comes in the form of cash that you can use to make renovations to your home.
Rate Changes: One of the most common reasons for refinancing is to take advantage of low interest rates. If the rates have dropped and your current rate is higher than you would like, try a blended rate mortgage. This includes blending the interest rates, creating a much more affordable loan.
Extending Your Current Loan: When going with blended rate mortgages, you have the option of extending your existing mortgage. The term for this is 'blending and extending.' This can save you money on interest because it combines your original mortgage with the current, lower rate.
Purchasing a First Home: This might seem like a surprise, but there is value to be had. Blending a small loan with another can keep your loan-to-value ratio low. This provides the opportunity for savings that you might not get if a single mortgage loan-to-value ratio is much higher.
How do I learn more?
If you think that a blended rate mortgage is something that you may be interested in, calling Super Brokers is the first step. When you speak with one of our mortgage professionals, you get the guiding hand that you need through this kind of process.
Super Brokers can advise you whether a blended rate mortgage – or perhaps another mortgage entirely – is the way to go. Depending on your current mortgage rate, as well as the prevailing rates in the market, opting for a blended rate mortgage could be preferable against going through a complete refinance.
We are here to save you money and will help you to avoid those penalties and interest fees that can raise the costs of your loan.
Apply Now for a Blended Rate Mortgage