Convertible Mortgages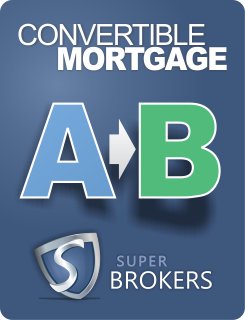 With the many choices available for mortgages, it can be easy to feel lost. The team at Super Brokers is here to help you find convertible mortgages that fits your needs best.
Better understanding convertible mortgages – when they can be obtained, why you might need one, and what it can do for you – is the first step before actually obtaining one. Call the team at Super Brokers to find out more information or to get moving in the right direction towards a convertible mortgage.
Apply for a Mortgage
What is a Convertible Mortgage?
To put it simply, a convertible mortgage is an adjustable rate loan. This type of loan gives the borrower the option to convert their mortgage to a fixed rate mortgage. Convertible mortgages have been around for a long time, offering homebuyers a chance to lock in lower rates should they fall during the term of the loan.
A convertible mortgage starts out as an adjustable rate mortgage. This is a home loan that has a variable interest rate that rises and falls with the market. The rate dictated by a standard financial index and won't have rapid, overnight fluctuations.
The Upside to Convertible Mortgages
Convertible mortgages allow the borrower to purchase a home while still giving them the possibility to take advantage in decreases in the prime mortgage rates. This is in comparison to being forced to take out an adjustable rate mortgage, which can leave you open to increases in the prime rate. It is also different than locking in a fixed rate mortgage at a time where experts expect a drop.
Convertible mortgages act as something of a compromise between the two. Borrowers begin the loan with an adjustable rate mortgage but they have the ability to convert it into a fixed rate mortgage should the prime rates drop.
There are fees involved, of course. In order to switch from a variable to a fixed rate, the borrower has to pay a fee to activate the convertible aspect of the mortgage. Lenders each have their own rules that dictate when the borrower can covert the mortgage, so it is important to know the difference between each lender before choosing this kind of term.
Drawbacks of Convertible Mortgages
One of the major drawbacks of adjustable rate mortgages is that when the prime rates increase, the payment will rise as well. Not only that, there are limits that dictate how much the rate can jump over the entire lifetime of the loan and how much it can change in a single reset.
There are the fees as well. Those with nonconvertible adjustable rate mortgages can decide to refinance their loan. This is in order to avoid steep payment increases over the life of their loan.
Apply for a Mortgage
How to get a Convertible Mortgage
If a convertible mortgage appeals to you and your financial goals, contact Super Brokers. Speaking with one of our mortgage professionals is the first step towards getting the loan that suits you best, convertible mortgage or no convertible mortgage.
It is important to keep in mind that the down payment must be 5 percent or higher with a maximum amortization of 25 years. Our mortgage professionals can provide you with all of the pertinent information that you need to make the most informed decision possible.