Financing for Home Renovations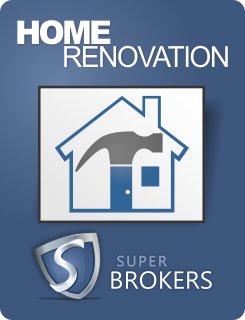 Implementing home renovations can have numerous positive effects. You can increase the value of your property, save on utility bills, and improve your quality of life. Getting the right home renovation can be done by using one of the many home renovation loans that are available to Canadians. Even better, these financing options are available at some of the best financing rates.
There are also benefits to aging inner city properties in Canada. They offer owners character homes that are central to local amenities, offer a cosmopolitan style of life, and are usually in rising markets. The downside is that many of these homes require updating, sometimes to the entire home.
To get those updates done, it requires financing. This can be a home equity loan, home line of credit, home refinancing, or other home finance options that can provide the money needed for those revamps.
Instead of looking for a new home and relocating your entire family, ask yourself if a home renovation may be the better option. Often times, you can get everything that you need without having to move.
Apply for a Renovation Loan
Home Renovation Loan or Other Line of Credit
Home renovations are possible through a home renovation loan or another line of credit. These kinds of loans can give the homeowner the ability to do a number of different things.
Some of the things possible are terracing a sloped yard, remodeling a guest bedroom, transforming a spare room into an office, developing a basement, rental suite, or day home, and saving on energy bills.
It allows allows for replacing an old heating system, creating easier wheelchair access, building a solarium, installing hardwood floors, or remodeling outdated kitchens and bathrooms.
With home renovations, the possibilities are endless. With affordable financing, you can bring the custom look to your current home without having to go through the process of finding a new one.
Thankfully, Super Brokers has access to a large number of home renovation loans and home equity lines of credit. Call us today to speak to one of our mortgage professionals. We can assess your needs, objectives, budget, and financial strategy in order to find the best product for you.
Where do funds for Home Renovations come from?
For homeowners that have amassed more than 20 percent equity in their properties, there are a number of available financing options. These include a home equity mortgage, a home equity line of credit (HELOC), a home equity loan, mortgage refinancing, a refinance home loan, and a revolving line of credit.
We keep the most current rates posted on the Super Brokers website constantly and those are available countrywide. If you are able to access a lower mortgage rate than the one you have currently, refinancing may be the best option. By using a mortgage refinance, you can potentially free the funds needed for those home renovations.
Turn Savings into Home Renovations
Super Brokers mortgage brokers do not charge fees when in order to provide you financing. There will be home appraisal and legal fees that apply, but those can generally be added to the home renovation loan product. This saves you from having to provide these funds out of your own pocket.
Super Brokers mortgages have semi-annual compounding. This means that your interest will be compounded twice every year. Even better, payment options are up to you in most cases. These payments can be made monthly, semi-monthly, bi-weekly, bi-weekly accelerated, and weekly. Home equity line of credit even also for interest only payments for up to 10 years.
Avoid Credit Card Debt
It is important to note that, while credit card financing is possible, there are things to be aware of. Be sure to read all the fine print before committing to the use of a credit card. Credit card debt is generally compounded monthly on a cash advance with interest compounded daily.
You should only take on this kind of financing if you are certain that you can pay back your home renovation debt in a short amount of time. Credit card interest can compound quickly and that makes it infinitely more difficult to pay off if you aren't certain that you can pay it off in short order.
Even with limited-time low interest rate offers, credit card interest rates can climb. On average, credit card interest rates can hit around 18 to 21 percent. That is the kind of debt that adds up fast, turning your home renovation into serious debt.
Another thing to be aware of are annual fees. Some limited-time offers are granted solely because they have annual fees attached to them. Make certain to read the fine print before committing to financing with a credit card.
Call Super Brokers Today
If you are interested in home renovations but don't know how to make it a reality, call Super Brokers today. Our finance experts can help you determine the best loan for your renovation needs. This allows you to get the home renovations you need while keeping your financial goals in mind.
Apply for a Renovation Loan