Hybrid Mortgages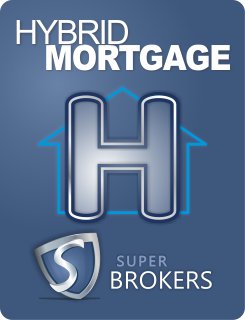 Finding the right mortgage doesn't have to be so complicated and hybrid mortgages can be a great option. There are pros and cons to every type of mortgage out there and it can be difficult to know one from the other. But sometimes getting a little bit of multiple mortgages can be highly beneficial.
For those who are uninitiated, there can be a misconception that it comes down to fixed-rate or variable rate mortgages. But what if you could have both? That is what a hybrid mortgage can offer to you. Still, it helps to know as much as possible about hybrid mortgages and what they can offer to you.
Apply for a Hybrid Mortgage
What is a Hybrid Mortgage?
A hybrid mortgage, which also goes by the name of a laddered mortgage, is just as it sounds. It allows borrowers to combine aspects of fixed-rate mortgages and variable rate mortgages.
Essentially, it lets borrowers lock in part of their home loan at a higher fixed interest rate while the other part has a lower, variable interest rate. For all intents and purposes, it splits the mortgage into two different parts.
With hybrid mortgages, the fixed rate portion acts as a cushion against potentially higher interest costs. At the same time, the variable portion is there so that, should interest rates decrease, it can help to offset the costs of those higher, fixed interest rates.
What Advantages do Hybrid Mortgages Offer?
Compared to a loan that is absolutely fixed, the period of a hybrid mortgage that is fixed will be lower. This can be quite advantageous for those homeowners or real estate flippers who have the intention of selling their house within the first few years of purchasing it.
Hybrid mortgages allow for low fixed rates to be enjoyed throughout the time frame in which the loan is fixed. Also, the fixed repayments allow borrowers to work out their budgets to a greater detail, taking uncertainty out of the mix.
The fixed portion of the term also protects against potentially rising interest rates until the variable kicks in. This can be helpful when it comes to increasing income, adding to savings, or making a lump sum payment towards the principle.
The variable portion of the loan allows for potential savings as well. In addition to being lower than the fixed portion of the term, if rates decline, there are additional financial benefits to be had. It is meant to be a "best of both worlds" scenario.
Hybrid mortgages can also allow for different payment and amortization schedules for each component. This allows for a greater level of flexibility in how much they pay each month and also affords them the opportunity to pay the mortgage off faster.
What are the Disadvantages of Hybrid Mortgages?
As compared to a full variable rate mortgage, a hybrid loan will have higher interest rates during the first few years of the fixed rates. Fixed rates are always higher during the initial years than a floating rate.
This is because it compensates for potentially higher risks. That fixed rate is the consumer paying for predictability and stability in the market. Not having to worry about rising rates can provide peace of mind and that peace of mind costs.
With time, the markets can become less and less predictable. Should the market on general interest rates rise to high levels, it could be a major shock when the variable portion of your loan comes into play.
It is good to review your home loan every year or two. This is the way to get the best possible rates, though refinancing does come with its own fees and costs that you should be aware of. Nothing in the housing market is free, it's about where you can find the most savings possible.
Apply for a Mortgage
Call Super Brokers Today
Whether you are looking to refinance your current mortgage or scouting for a new loan entirely, calling Super Brokers should be one of the first moves that you make. Our team of professionals are just a call away to provide you with all of the information that you need to proceed.
Don't go it alone and choose a loan that you will regret. Get the team at Super Brokers involved to help not only get you the best rate possible but the kind of loan that will suit your financial needs the way that they were meant to be.