Variable Rate Mortgages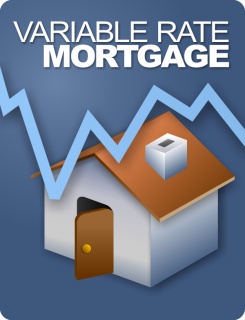 Variable rate mortgages are one of the most common on the market. The other major type are your standard fixed. These are two of the most popular options out there for their simplicity as well as the benefits that they offer.
A fixed rate mortgage is just that: it locks in your rate for the duration of your loan. This is mean to protect against any potential rising in market interest rates. When you lock in your rate, that is the rate that you pay during your term without wavering.
But what is a variable rate mortgage and what can it do for you?
Apply Now for a Variable Rate Mortgage
What are Variable Rate Mortgages?
Simply put a variable rate mortgage (also known as a floating rate mortgage) is the type of loan where the interest rate changes based on market conditions. Whereas a fixed rate does not change over the life of the loan, a variable rides the market.
Variable rate mortgages are generally closely related to the Canadian prime lending rate. Not only that, they are based on a 5-year term or less. This allows buyers to take advantage of low prime rates while securing their position long enough to not be tied to a higher interest rate if the prime increases.
Variable rate mortgages are nothing new to Canada, though there are now more types. Not only that, they are constantly evolving in an effort to provide a better fit for individual mortgage holders. With Super Brokers on your side, we are able to tailor your mortgage to suit your individual needs.
To learn more about variable rate mortgage products, all you have to do is apply online. A mortgage agent can discuss our current offers or answer any questions that you may have when it comes to obtaining a variable rate mortgage.
What happens if the Prime Rate goes up?
While the prime rate has historically not gone up over night, it can rise from time to time. The interest rates are affected by the Canadian economy as well as the monetary policies that have been set forth by the Bank of Canada.
The rates can typically jump up by only 25 basis points (which is the equivalent of one quarter of a percent) if it moves at all. There are times where it does not move for an entire year while others where it moves on a quarterly basis.
One of the benefits to variable rate mortgages is that, should the prime rate increase, there is usually an option to lock into a fixed rate mortgage at any time. Best of all, this usually comes without penalty. With the assistance of a mortgage associate, you can get locked into the current rate and not just the "bank posted" rate that most conventional banks and lenders will offer.
Even better, this can be done with a phone call. There is no need to re-apply or re-quality for a new mortgage; it can all be amended in your current loan. It is a good idea to check out the history of rate movement before going with a variable rate mortgage.
By doing this, you can see how the rate adjusts historically, allowing you to make an informed decision instead of rushing to lock in. This can help you keep a lower rate and payment offered by variable rate mortgages.
How do I get a Variable Rate Mortgage?
If you looking for a new home or are thinking about refinancing your current loan, call Super Brokers today. Our team of professionals will provide you with all of the necessary information so that you can make the most informed decision possible.
Our team can help you decide whether a variable rate is the way to go and what the current rates are to help you come to that decision. Call our team today to schedule your consultation and start the journey towards the variable rate mortgage that you have been considering.
Apply Now for a Variable Rate Mortgage