Display Current Mortgage Rates On Your Website
Share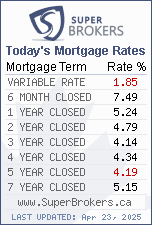 If you are a Canadian mortgage broker, financial planner, real estate agent, or simply want to post today's mortgage rates on your website, read on. Canadian Mortgage Rates can be posted to your website in as many as 200 different custom-fit mortgage boxes. These rate boxes will be up-to-date and tailored to suit your business.
Best of all, these Canadian mortgage rate boxes are available for your website free of charge and require no maintenance. The rates posted in your box will be updated each day automatically.
Posting Mortgage Rates with Accuracy on your Website
Accuracy and transparency are essential in today's real estate and financial market. Why not keep your website up-to-date with Canadian mortgage rates that are reliable; and posted minute by minute?
Mortgage rates make all the difference in the affordability of a Canadian property to a potential buyer. Securing the lowest mortgage rate available, with the terms and options the client needs, means the client could afford a greater amount of financing toward their home purchase. Keep clients in the light by posting today's mortgage rates on your Canadian real estate or financially geared website.