Fixed or Variable? Canadians Come Out Even on Recent Poll
Share
A recent poll conducted by CIBC/Harris Decima has relayed an interesting message: though the majority (61 per cent) of Canadians believe rates will be higher next year, they are roughly even on whether they would choose a variable or fixed rate mortgage.
Of those surveyed, 39 per cent said they would opt for fixed while 32 per cent stated they would select variable, leaving a 25 per cent populace undecided.
"The divergent opinions on whether to go fixed or variable underscores what our advisors see every day in their meetings with clients – choosing the right mortgage depends on your personal financial situation," Colette Delaney, senior VP of mortgages, lending and insurance for CIBC Retail Markets, commented on the poll results. "There's no single answer for everyone."
Age and experience appeared to be a major influence over which mortgage product was preferred. Among the more financially seasoned crowd, adults aged 45 to 54, 42 per cent said they would select a variable rate. That number dropped to 27 per cent among the younger crowd of 25 to 34 years.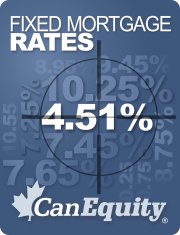 "You may choose to start with a fixed mortgage when you buy your first home, then transition to a variable mortgage in later terms when you have improved your financial situation and paid down some of the principal," Delaney posited.
If you find yourself in that boat now, wishing to get out of your fixed rate to capitalize on today's low variable rate, you may want to consider a mortgage transfer. Though most lenders will charge a fee to break a current term contract, the transfer should be conducted with no further costs. If doing such reduces the rate you are paying by 100 basis points (1 per cent) or greater, this could mean viable savings over the course of the next term.
The CIBC/Harris Decima poll surveyed 1,000 Canadians by phone from April 28 to May 1, 2011.