Saving for a Down Payment
Share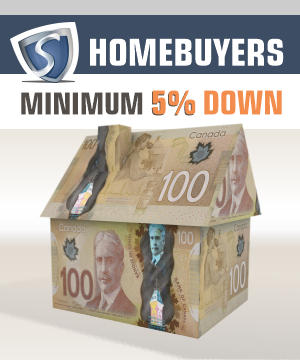 Mortgage Down Payment
Today's mortgage market allows potential homeowners to purchase their dream property in Canada with as little as five per cent down.
Any down payment that totals less than 20 per cent of the property value will require mortgage default insurance, and is considered to be a high ratio loan.
A conventional mortgage is defined as a mortgage loan where 80 per cent or less of the property value is financed through a lender. The percentage of your home value that is financed, or not paid for by the down payment, is defined in a Loan to Value ratio (LTV) (loan amount divided by property value). The LTV has a large influence on the mortgage product you will be eligible to qualify for on the purchase of your new property.
The greater the down payment you can accumulate, the greater the contribution you are making toward the principal value of your home, and thus the less of the mortgage loan amount you will be paying interest on over time.

The Canadian first-time homebuyer should aim to amass 5 to 20 per cent of the value of their prospective home toward a down payment. From the moment you make home ownership your goal, it is time to start implementing a budget and saving strategy to get you there, and the first step is amassing a down payment.
While saving toward the down payment on your new home, funds may be held in an account where they will gain interest and grow. This can mean a Canadian Tax Free Savings Account (TFSA), a Guaranteed Investment Certificate (GIC), a mutual fund, a term investment, or an investment within a Registered Retirement Savings Plan (RRSP). First-time homeowners are allowed to withdraw up to $25,000 per buyer from their RRSP to apply toward the down payment of their first primary residence, or a residence for a disabled relative.
A down payment may also be procured through a financial gift from a family member.
If the down payment you gather is less than 20 per cent of the total property value, you will require mortgage default insurance. There are three major suppliers of such in Canada. This type of mortgage insurance protects lenders against the risk of the mortgagor defaulting on their mortgage payments. It does not, however, guard the homeowner against theft, fire or other potential property damages. That type of coverage would require homeowner insurance.
Mortgage default insurance may be paid in one lump sum payment at the time the mortgage deal is closed, or over time, added to the principal balance of the mortgage, and paid with your mortgage payments.